Return to top
Return to top
The Museum's History
The original U.S. Army Medical Museum was founded in 1862 as a research facility in Washington, D.C. It was transferred to the Armed Forces Institute of Pathology, and was located at Walter Reed General Hospital.  Today, that institution is known as the National Museum of Health and Medicine and is located in Silver Spring, MD.
In 1920, our museum was established as a teaching collection at Carlisle Barracks, PA, in conjunction with the Medical Field Service School (MFSS).  In1946, the MFSS and its teaching collection were transferred to Fort Sam Houston, TX.  In 1955, the Museum received its designation as the U.S. Army Medical Department Museum (AMEDD Museum) from the Surgeon General of the Army.  After arriving at Fort Sam Houston, the museum was initially housed in several different locations, which were not optimal to meet the unique requirements of a historical museum.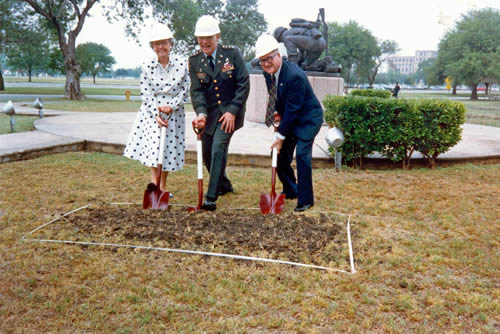 In 1978, a group of former Medical Department personnel formed the U.S. Army Medical Department Museum Foundation, Inc., as a 501 (c) (3) organization to raise funds for a new museum facility.  Built with private donations raised by the Foundation, the present AMEDD Museum officially opened its doors in July, 1989, and ownership was transferred to the U.S. Government.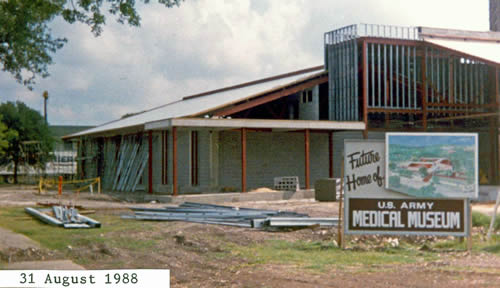 The Museum Today
Today the AMEDD Museum campus occupies 7 acres of grounds, including the main museum building, a covered, restored hospital train car, and two pergolas, one containing modern wheeled ambulances and one containing helicopters.  A Medal of Honor Walk recognizes the 50 Medal of Honor recipients from the U.S. Army Medical Department, winding through the museum grounds and leading to a 250-seat outdoor amphitheater.
The galleries and outdoor exhibit areas tell the 200-plus year history of the U S Army Medical Department, in war and peace, emphasizing subjects such as battlefield medicine, the chain of patient evacuation, the evolution of the 8 different corps that compose the Army Medical Department and the evolution of equipment, medical care and treatment from 1775 to the present day.
The buildings are in the "Spanish Revival" architectural style, with mission tile roofs and fountain courts, in keeping with the historic buildings at Fort Sam Houston.  Large stone medallions representing the seals of the six commissioned corps, enlisted corps, and civilian corps decorate the facade.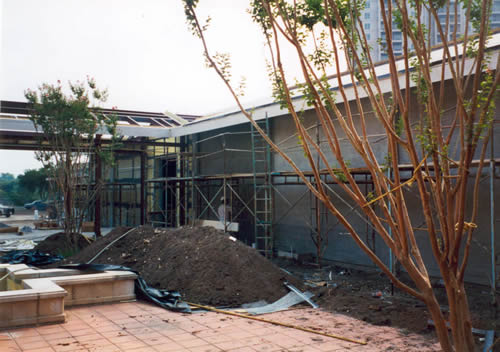 The AMEDD Museum Foundation, since completing the initial construction in 1989, has remained an active partner.   Phase II construction, which added a second exhibit gallery and a workshop space was completed in 1998.  Phase III construction, consisting of a collections storage area, was completed in Fall of 2001.  Over the years, the museum grounds have been developed by the addition of a covered hospital train car, the two pergolas (Phase IV a and Phase IV b), and a Medal of Honor Walk, dedicated in 2012.  In addition to its construction projects, the AMEDD Museum Foundation also continues to support other museum activities and improvements.