Return to top
Return to top
Command Sergeant Majors of Health Services Command (HSC)/MEDCOM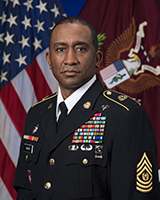 CSM Diamond D. Hough completed Basic Training at Fort Jackson, South Carolina. He then went on to Advanced Individual Training as a Combat Medic at Fort Sam Houston, Texas.
Hough has served with distinction in a multitude of leadership positions commensurate with his career field. These positions include Command Sergeant Major, G3 Operations Sergeant Major, Chief Clinical NCO, First Sergeant, Detachment Sergeant, Instructor/Writer, Observer/Controller, Medical Clinic NCOIC, Wardmaster, and Evacuation Treatment NCO.
His assignments include: 15th Evacuation Hospital, Fort Polk, Louisiana; 565th Medical Company, Fort Polk, Louisiana; JRTC (EAD), Fort Polk, Louisiana; 115th Field Hospital, Fort Polk, Louisiana; 1st U.S. Army Support Battalion, Sinai, Egypt; 44th Medical Brigade, Fort Bragg, North Carolina; 5th Mobile Army Support Hospital, Fort Bragg, North Carolina; 55th Medical Group, Fort Bragg, North Carolina; 2d Armored Cavalry Regiment, Fort Bragg, North Carolina; A Co. 232d Medical Battalion, Department Combat Medic Training, Fort Sam Houston, Texas; B Co. Tripler Army Medical Center, Honolulu, Hawaii; HHC 212d Mobile Army Surgical Hospital Miesau, Germany; B Co. 212d Combat Support Hospital, Miesau, Germany; DSTB, 82d Airborne Division (Task Force Cincinnatus) JFT-82 in Bagram, Afghanistan; 101st Sustainment Brigade Fort Campbell, Kentucky; G3 Operations, Europe Regional Medical Command, Heidelberg, Germany; 14th Combat Support Hospital, Fort Benning, Georgia; 62d Medical Brigade, Joint Base Lewis-McChord, Washington; Brooke Army Medical Center (BAMC), Fort Sam Houston, Texas; and Regional Health Command - Atlantic, Fort Belvoir, Virginia.
Hough's civilian education includes a Master's Degree in Leadership Studies from the University of Texas at El Paso (UTEP). He also holds a Bachelor's Degree in Political Science from Chaminade University of Honolulu. His military education includes, but is not limited to: Primary Leadership Development Course (Honor Graduate); Basic Noncommissioned Officers Course (Commandant's List); Advance Noncommissioned Officers Course (Leadership Awardee); Battle Staff NCO Course, First Sergeants Course; United States Army Sergeants Major Academy (top 20%). He also attended: Airborne School; Air Assault Course; EFMB; Master Fitness Course; Lean Six Sigma (LSS) Black Belt; Equal Opportunity Course; CSM Force Management Course; Senior Enlisted Joint PME Course 1 & 2; Command Sergeant Major Legal Orientation (CSMLO); Nominative Leader's Course; JMESI Capstone Course.
His awards include the Legion of Merit (3 OLC); Combat Action Badge Meritorious Service Medal (3 OLC)' Joint Service Commendation Medal (1 OLC); Army Commendation Medal (3 OLC); Army Achievement Medal (1 silver oak leaf); Good Conduct Medal (9th Award); National Defense Service Medal (2nd Award); South Asia Service Medal (3rd Award); Humanitarian Service Medal; NCO Professional Development Ribbon (#6); Outstanding Volunteer Service Medal (2nd Award); Army Service Ribbon; Overseas Service Ribbon; Multinational Force & Overseas Medal (#2); LM (Saudi Arabia)(Palm Tree), LM (Kuwait). Additionally, Hough has been inducted into the Sergeant Audie Murphy Club and the Order of Medical Military Merit.