Return to top
Return to top
AMEDD Regimental Recognition Program (DMOR/HMOR/FOR)
FRIEND OF THE REGIMENT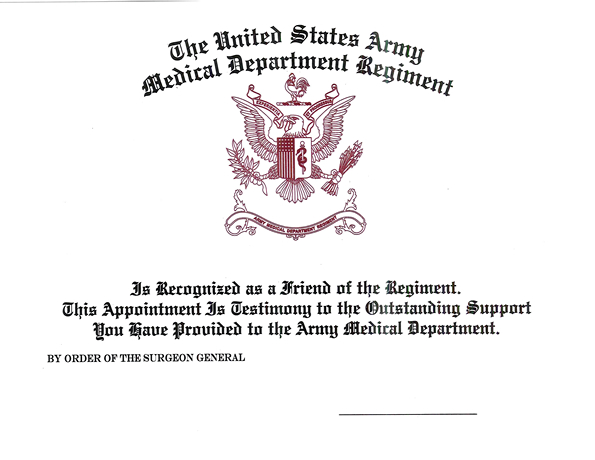 1. A description of the criteria for nomination to the position of Friend of the Regiment and the process for nomination to this position are as follows:
The FOR program was developed by The Surgeon General as a means to recognize individuals, groups, or businesses which have continually made noteworthy contributions to, or performed a service for the AMEDD Regiment. A few examples would be a non-AMEDD Soldier (i.e., Signal, Chemical, or Mechanic) assigned to an AMEDD unit for a short period; a German doctor or clinic that augments an AMEDD MTF; a land owner who allows access to their land for the purpose of an AMEDD battlefield Staff Ride.  Contractors are not eligible for this recognition. A FOR nomination should be submitted 60 days prior to the desired presentation date.
2. Any member of the AMEDD Regiment, to include retirees, may submit nominations for an FOR to the AMEDD Regimental Office. The nomination should be completed as follows:
a. A cover letter (example)
which provides the nominee`s name and rank/grade. The nominator should also provide his/her full name, mailing address, and phone number to assist the Regimental Office in obtaining further information, if needed. The nominator should state the proposed presentation date and specify which address the certificate should be forwarded if the nomination is approved. The nomination must also include the following statement: "There are no adverse personnel actions pending on the individual being nominated"
b. A justification limited to no more than 2 pages, discussing the nominee`s contributions to the AMEDD.
c. PLEASE DO NOT ENTER THE SOCIAL SECURITY NUMBER ON ANY DOCUMENT 
d. The nomination and supporting documentation, should be forwarded to the AMEDD Regimental Office via electronic mail at the following addresses:
Regimental Administrative Officer
 usarmy.jbsa.medical-coe.list.achh-regiment@army.mil
3. Contact the Regimental Office at Commercial (210) 221-8455, or the address provided in paragraph 2d for additional information