Return to top
Return to top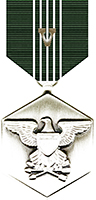 Army Commendation Medal
*SPECIAL NOTE: This list of ARCOM with 'V' device recipients should not be considered complete. This is an ongoing project and we welcome information on additional Distinguished Service Cross, Silver Star, Distinguished Flying Cross, Soldier's Medal, Bronze Star with 'V' device, ARCOM with 'V' device, and Air Medal with 'V' device recipients. Please contact us via email.
The Army Commendation Ribbon was established by War Department Circular 377, 18 December 1945. This circular authorized the award to members of the Armed Forces of the United States serving in any capacity with the Army for meritorious service rendered after 6 December 1941, distinguished himself or herself by heroism, meritorious achievement, or meritorious service. Authority to award the Commendation Ribbon was delegated to Major Generals or commanders of any command, force or installation normally commanded by Major Generals.
A Medal Pendant for Commendation Ribbon was announced in Department of the Army Circular 91 dated 20 July 1949. DA General Order 10, dated 31 March 1960, renamed the Commendation Ribbon with Medal Pendant to the Army Commendation Medal. President Kennedy, in a memorandum to the Secretary of Defense, dated 1 June 1962, authorized the award of the Army Commendation Medal to members of the Armed Forces of friendly foreign nations who, after 1 June 1962, distinguished themselves by an act of heroic, extraordinary achievement, or meritorious service which has been of mutual benefit to a friendly nation and the United States.
The ARCOM may be awarded for combat related service or achievement after 29 February 1964. Awards of the ARCOM may be made for acts of valor performed under circumstances described above which are of lesser degree than required for award of the Bronze Star Medal (BSM). These acts may involve aerial flight. The ARCOM may be awarded for acts of noncombatant-related heroism which do not meet the requirements for an award of the Soldier's Medal (SM) or for acts of aerial flight which do not meet the requirements for award of the Air Medal (AM). The ARCOM will not be awarded to general officers.
The "V" device is a bronze block letter, V, 1/4-inch high with serifs at the top of either side of the V. It is worn to denote participation in acts of heroism involving conflict with an armed enemy. It was originally worn only on the suspension and service ribbons of the BSM to denote an award made for heroism (valor). Effective 29 February 1964, the "V" device was also authorized for wear on the AM and ARCOM for heroic acts or valorous deeds not warranting awards of the Distinguished Flying Cross (DFC) or the BSM with "V" device. Effective 25 June 1963, the "V" device was authorized additionally for wear on the Joint Service Commendation Medal when the award is for acts of valor (heroism) during participation in combat operations. In the case of multiple 'V' devices for the same award, only one "V" device is worn on the service ribbon.